Yang Noi
'Yang Noi' is a popular design of the top among aristocrats. The shirt was the adaptation from Indian's Kurti tops. Yang Noi is a long-sleeved, straight-up collar shirt with the fabric pulled tight around the waist. The lower hems are sewn in overlapping patterns. Another astounding characteristic of Yang Noi tops is that the shirt was tailored using a single piece of fabric – folding over and sewn. The fabric used in the tailoring of Yang Noi varies from Chinese rayon, Atlat Fabric, or Indigo-dyed fabric imported from India and Persia.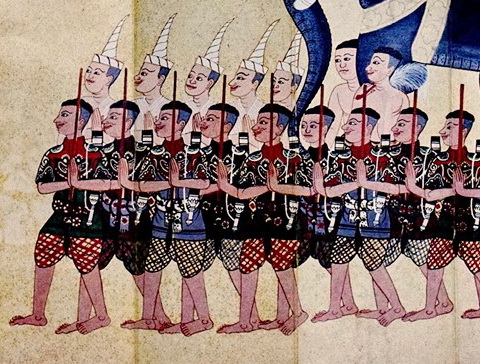 Sena Khut
Sena Khut, as known as the uniform for the army and navy officers back in the era. The tops were made of 'Lai Yang' fabric that was made of cotton. Though the fabric was produced in India, the shirt was tailored in Chinese fashion, with buttons strapped on the side/flank. At the front, back of the shirt, and on the biceps lies the embroidery of Singha. The shirt is usually worn on occasions of royal parades and processions.
Kor Lam
Kor lam is the commonly worn shirt – a casual look back in the days of Ayutthaya until early Rattanakosin. The tops resemble the V-neck shirt with curved hems. The cloth is also pulled in around the waist. Kor lam was procurable in both short-sleeves and long-sleeves.
Yerabab (Zarbaft)
Yerabab shirt is made of a specific fabric, weaved with gold and silver threads. The fabric was first used as an official, palace attire in the Ayutthaya time, until the early years of Rathanakhosin. Yerabab was imported from Indian and Persia.
Khem-Kab Shirt
Khem Kab was the fabric sewn with gold and silver threads, the same way as Yerabab. They were both imported from India and Persia The pattern though, is different – with the gold and silver threads sewn together with the silks.
TRULY THAI AUTHENTIC YOU CAN BE